Keeping Mom & Pop Alive
Don't worry. I'm not using using my blog to lecture you about the current controversies surrounding end-of-life directives. I'm talkin' about an important issue that's near and dear to our hearts here at Johnny Guitar's Music Shop: keeping owner-operated businesses, "Mom & Pops," alive.
It's not just a transient issue that ebs and flows along with our country's economic cycles. It's about the long-term health of our nation, our economy, our social life and our posterity.
Jean Thompson, a fellow owner-operator at Cat Bamboo in Washington, recently sent out information about a program called The 3/50 Project: Saving the Brick & Mortars Our Nation was Built On. The basic idea is to encourage everyone to pick out their 3 favorite independently-owned businesses and commit to spending $50 a month in each. The benefits are enormous. Here's the way the 3/50 organization puts it: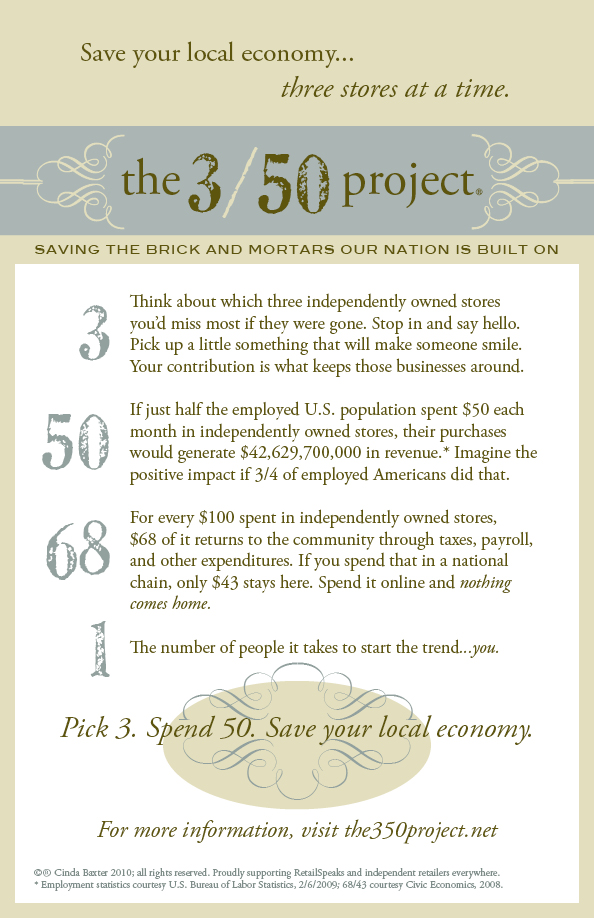 We can't save the world financial system. We can't wait for a government bailout. But we can put an oar in the water for our local businesses by thinking not only about how we can get the cheapest prices, but also on how our spending impacts our neighborhoods. As the poster says, for every $100 you spend with a local business, $68 stays in the community.
That's our community. The place we call home. A place worth saving. Just sayin'.